Click here to view original web page at www.bbc.co.uk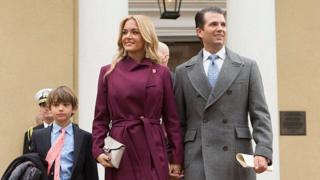 The US president's daughter-in-law, Vanessa Trump, was taken to hospital as a precaution after opening an envelope containing white powder, police say.
The letter was addressed to Donald Trump Jr, Mr Trump's eldest son, at his apartment in Manhattan.
Mrs Trump and two others at the scene were decontaminated by firefighters and taken to hospital for evaluation.
NYPD told the BBC they tested the white powder in the envelope and confirmed that it was non-hazardous.
They said that Mrs Trump did not appear to be physically affected by the substance.
US President Donald Trump spoke to Mrs Trump Jr, White House spokeswoman Sarah Sanders confirmed at the daily news briefing.
The Fire Department of New York (FDNY) referred calls from the media to police, but confirmed that three people had been transported to the Weill Cornell Medical Center.
The call came to police at around 10:00 local time (15:00 GMT), according to local officials.
They said the couple's East 54th Street apartment was now being decontaminated.
According to CBS New York, Vanessa Trump's mother handled the envelope, which Vanessa then opened.
The Secret Service said it is "investigating a suspicious package addressed to one of our protectees received today".
In September, Mr Trump Jr, 40, chose to forgo Secret Service protection for himself, his wife and their five children, but it was reactivated one week later.
With so much to be thankful for this past year Vanessa, Kai, Donnie, Tristan, Spencer, Chloe and I wanted to wish all Americans a wonderful Thanksgiving. May you enjoy it with friends and loved ones and to those serving abroad who are not able to be with family, we thank you for your service protecting our freedoms and our families. Reflecting back over the election cycle, I would also like to personally thank all those I have had the privilege of meeting over the past 18 months as part of my father's campaign. Your support, your stories, and your prayers along the way made the incredibly arduous journey worthwhile and enjoyable. My father won't let you down. #Thanksgiving #familytime #family #trump #ProudAmerican #thanks

A post shared by Donald Trump Jr. (@donaldjtrumpjr) on Nov 24, 2016 at 4:50pm PST
Donald Trump Jr, who works for his father's business, married Mrs Trump (née Vanessa Kay Haydon) in November 2005 at the president's Mar-a-Lago resort in Florida.
Mr Trump Jr's aunt, the late Judge Maryanne Trump Barry, officiated at the ceremony.
Before wedding Mr Trump Jr, Mrs Trump was a fashion model in New York.
Who is the new first family of the US?
She had appeared in TV adverts and the film Something's Gotta Give, starring Jack Nicholson and Diane Keaton.
The 40-year-old former Miss USA contestant once had a handbag company, La Poshett, which is now defunct.
Officials have been on alert for toxic substances sent through the mail since 2001 when anthrax was posted to lawmakers and journalists, killing five people.
Click here to view original web page at Donald Trump Jr's wife taken to hospital